Columns, Articles, and Other Nonsense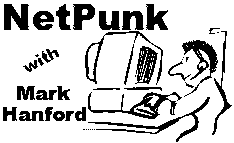 The monthly column I do about punk and the internet for Maximum RocknRoll Magazine.
Also, you can find columns of other MRR writers here.

I do a column for this Northwest zine about whatever I want. So there.
Punk Planet
I did a couple of DIY files in the early days of Punk Planet zine. One was on setting up a gig and the other was about making jug wine. Now I generally just do record reviews.
Other Articles
What I did on my Christmas Vacation (Or here is the same article with gory photos!) from the pages of Seattle's Stiff and Crusty fanzine (a Headveins publication).
And here's a DIY article I wrote for Fluff fanzine #1 about screen printing your own t-shirts. But I should warn you, I got a message from a screen printing professional who took exception to my giving out this info, because she felt it was too mickey mouse and would lead to lots of lousy screen-printing. I dunno, it's always worked fine this way for me. But then I got another message from another professional and he said that he use to do it this way and fully supports my offering this information. Whatever...
---
Return to The Screwball Punk Page.